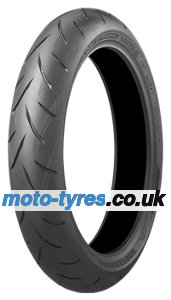 Please note: Prices apply to tires without rim. Depending on the tire dimension, the tread pattern may vary.
Bridgestone
S 21 F
120/70 ZR17 TL (58W) M/C, Front wheel
Bridgestone
S 21 F
120/70 ZR17 TL (58W) M/C, Front wheel
Bridgestone - Premium tyre manufacturer from Japan, top quality at premium-class prices.
Tyre size
120/70 ZR17 TL (58W) M/C, Front wheel
Speed Index:
(W):
Approved
up to over 169 mph
Description

Matching motorcycles

Client reviews rating

Technical specifications

Set offers (front and rear tires)
Ultimate performance you could only dream of, now for real!
Thrill of riding in any conditions
S21 is an awesome mix of the proven wet technology of S20EVO and radical new features that take dry performance to a whole new level.
Extreme cornering
The superior stability of S21 allows higher entering speeds, a sharper line and faster exit – giving you a feeling of confidence and achievement through corners.
High mileage
You don't have to trade life span for top handling performance. S21 clocks up to 36% higher mileage than its predecessor.
No compromise on safety
Bridgestone's advanced tread pattern and compound technologies give you all the reassurance you need in the wet.
| | |
| --- | --- |
| Brand | Bridgestone |
| Tyre type | Supersport Road |
| Model | S 21 F |
| Dimension | 120/70 ZR17 TL (58W) M/C, Front wheel |
| Tyre width | 120 |
| Tyre profile | 70 |
| Construction type | ZR |
| Tyre size | 17 |
| Tyre load index | 58 |
| Speed index | ((W)) |
| With/Without Valve (TT/TL) | Tubeless |
| M/C | Yes |
Buy tires in set
224.28 £ 217.55 £
* The list prices, if available, are a net calculation basis for determining sales prices between tire manufacturers and their dealers.
In no case are the selling prices paid or usually paid.
**Prices include VAT and delivery within mainland UK (excl. Scottish Highlands).
***More than 90% of our orders reach the customer in the specified delivery time.