Metzeler
Roadtec Z8 Interact
190/55 ZR17 TL (75W) Rear wheel, M/C, variant O
Metzeler
Roadtec Z8 Interact
190/55 ZR17 TL (75W) Rear wheel, M/C, variant O
Metzeler - Motorcycle tyre brand from Germany
Tyre size
190/55 ZR17 TL (75W) Rear wheel, M/C, variant O
Speed Index:
(W):
Approved
up to over 169 mph
European Production
Description

Matching motorcycles

Client reviews rating

Technical specifications

Set offers (front and rear tires)
Metzeler Roadtec Z8 Interact
The new Metzeler Roadtec Z8 Interact allows the rider to keep everything under control. The tyre follows the riders instincts with a sublime blend of precise and effortless handing
The new Roadtec Z8 Interact is designed to make riding easier, regardless of the motorcycle – for a long and safe experience.
The new tyre contour together with the patented profile design improves handling and reduces steering effort significantly - for maximum confidence in all riding conditions
New Design: The profile shape, inspired by the Greek letter 'Pi', maximizes the flexibility of the profile, thus ensuring an optimum tyre footprint under in all conditions. The 3-zone-tension Interact ™ Technology gives outstanding mileage and sporty cornering grip.
A new High Silica compound with Nano particles ensures performance and safety in all weather conditions
The best wet performance in the Sport Touring segment
The wet weather handling of motorcycle tyres and especially the braking performance in wet conditions, is becoming an increasingly important feature demanded by the rider. This rider requirement occurs especially if it suddenly rains and a high level of security is needed. Metzeler has decided to develop the new (M) and (O) specifications to provide motorcyclists the latest technology in terms of wet grip by retaining a high level of performance in all other areas. The rear tyre of the specifications (M) and (O) has a bi-compound mixture. The rubber compound in the central section of the tread area, depending on the tyre size, is on average 45 mm wide, with a 70% silica content specifically designed for higher mileage and stability at high speeds. The tyre shoulders comprise of approximately 88 mm on each side of the profile and have a 100% silica compound, which increases dramatically the chemical grip in the wet and reduces sliding under all conditions. The front tyre also consists of a 100% silica compound.
| | |
| --- | --- |
| Brand | Metzeler |
| Tyre type | Sport Touring Radial |
| Model | Roadtec Z8 Interact |
| Dimension | 190/55 ZR17 TL (75W) Rear wheel, M/C, variant O |
| Tyre width | 190 |
| Tyre profile | 55 |
| Construction type | ZR |
| Tyre size | 17 |
| Tyre load index | 75 |
| Speed index | ((W)) |
| With/Without Valve (TT/TL) | Tubeless |
| M/C | Yes |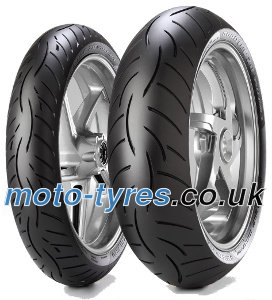 190/55 ZR17 TL (75W) Rear wheel, M/C, variant O
Buy tires in set
221.98 £ 215.32 £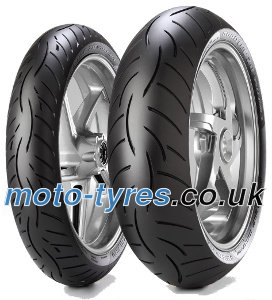 190/55 ZR17 TL (75W) Rear wheel, M/C, variant O
Buy tires in set
223.58 £ 216.87 £
* The list prices, if available, are a net calculation basis for determining sales prices between tire manufacturers and their dealers.
In no case are the selling prices paid or usually paid.
**Prices include VAT and delivery within mainland UK (excl. Scottish Highlands).
***More than 90% of our orders reach the customer in the specified delivery time.