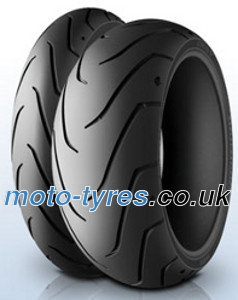 Please note: Prices apply to tires without rim. Depending on the tire dimension, the tread pattern may vary.
Michelin
Scorcher 11
120/70 ZR18 TL (59W) M/C, Front wheel
Michelin
Scorcher 11
120/70 ZR18 TL (59W) M/C, Front wheel
Michelin - High-quality premium French tyres from Michelin.
Tyre size
120/70 ZR18 TL (59W) M/C, Front wheel
Speed Index:
(W):
Approved
up to over 169 mph
Description

Matching motorcycles

Client reviews rating

Technical specifications

Set offers (front and rear tires)
The exclusively developed radial tyre for Harley-Davidson® V-Rod®, Sportster®, Fat Boy® and all Street models.
Radial carcass for a sporty feel
Inspired by our hypersport tires with high-quality materials, such as aramid fiber used in the aviation industry, the MICHELIN Scorcher 11 provides resistance and a lightweight feel, as well as unfailing stability at high speeds, to the Sportster® SuperLow™.
The Scorcher 11 incorporates Silica Rain Technology
To match the excellence of Harley-Davidson® as closely as possible, our engineers have developed a mix of silica-rich rubber compounds. This extremely powerful technology provides outstanding grip on wet surfaces. It also ensures a maximum service life.
An exclusive model for a legendary motorcycle
Conceived exclusively for Harley-Davidson® motorcycles, our tires feature an exclusive Harley-Davidson® co-branded design.
| | |
| --- | --- |
| Brand | Michelin |
| Tyre type | Chopper / Cruiser |
| Model | Scorcher 11 |
| Dimension | 120/70 ZR18 TL (59W) M/C, Front wheel |
| Tyre width | 120 |
| Tyre profile | 70 |
| Construction type | ZR |
| Tyre size | 18 |
| Tyre load index | 59 |
| Speed index | ((W)) |
| With/Without Valve (TT/TL) | Tubeless |
| M/C | Yes |
Buy tires in set
366.18 £ 355.19 £
Buy tires in set
372.18 £ 361.01 £
* The list prices, if available, are a net calculation basis for determining sales prices between tire manufacturers and their dealers.
In no case are the selling prices paid or usually paid.
**Prices include VAT and delivery within mainland UK (excl. Scottish Highlands).
***More than 90% of our orders reach the customer in the specified delivery time.