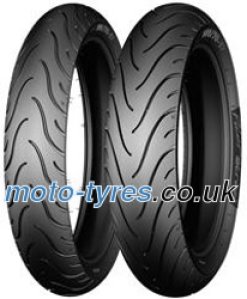 Please note: Prices apply to tires without rim. Depending on the tire dimension, the tread pattern may vary.
Michelin
Pilot Street
100/80-17 TT/TL 52S M/C, Front wheel
Michelin
Pilot Street
100/80-17 TT/TL 52S M/C, Front wheel
Michelin - High-quality premium French tyres from Michelin.
TT = Display matching tubes
Tyre size
100/80-17 TT/TL 52S M/C, Front wheel
Speed Index:
S:
Approved
up to 112 mph
Description

Matching motorcycles

Client reviews rating

Technical specifications

Set offers (front and rear tires)
Designed for small-engine motorcycles, MICHELIN Pilot Street tyres are perfect for everyday use in the city.
Ideal grip / wear balance
Tailored tread depths and new tread compounds give MICHELIN Pilot Street tyres the perfect balance between grip and wear. Their grooves are angled towards the shoulders to cut through water and ensure a good grip on wet surfaces.
Long-lasting and durable
Their extra-long lifespan is an important quality for everyday use: they're 35% longer lasting than MICHELIN Pilot Sporty tyres.
Sporty design
Their design is inspired directly by our Sport Touring Radial tyres and their tread pattern is adapted from MICHELIN Pilot Road 2 tyres. Discover the true joy of day-to-day riding with handling that comes into its own in and out of town.
| | |
| --- | --- |
| Brand | Michelin |
| Tyre type | Sport Touring Diagonal |
| Model | Pilot Street |
| Dimension | 100/80-17 TT/TL 52S M/C, Front wheel |
| Tyre width | 100 |
| Tyre profile | 80 |
| Tyre size | 17 |
| Tyre load index | 52 |
| Speed index | (S) |
| With/Without Valve (TT/TL) | Tyre requires tube |
| M/C | Yes |
Buy tires in set
160.58 £ 155.76 £
Buy tires in set
166.68 £ 161.68 £
Buy tires in set
170.78 £ 165.66 £
* The list prices, if available, are a net calculation basis for determining sales prices between tire manufacturers and their dealers.
In no case are the selling prices paid or usually paid.
**Prices include VAT and delivery within mainland UK (excl. Scottish Highlands).
***More than 90% of our orders reach the customer in the specified delivery time.