Metzeler Racetec Interact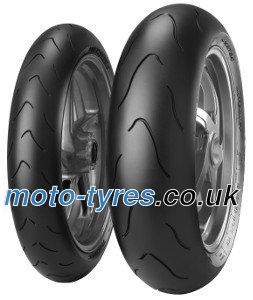 Metzeler Racetec Interact
With Interact™ Technology: Latest patented technology. A solution for that Pure Race Time
Tuned steel cord winding tension for a modular behaviour from the crown to shoulder, maximising the size of the footprint at different lean angles without a discontinuous feeling.
New generation of low thermo plasticity compounds for faster and evenly distributed warm up and higher grip in every race situation
New compact tread pattern designed to reduce tearing and control progressively the distribution of land / sea ratio (patented) for linear ride at every lean angle.
Range of compounds precisely tuned for specific weather and surface conditions, ensuring always the right choice from professional races to trackday use.
K0=Supersoft
K1=Soft
K2=Medium
*Prices include VAT and delivery within mainland UK (excl. Scottish Highlands).
**More than 90% of our orders reach the customer in the specified delivery time.