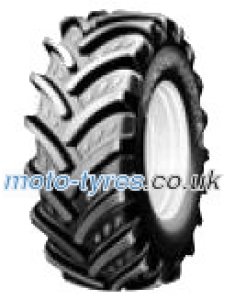 Please note: Prices apply to tires without rim. Depending on the tire dimension, the tread pattern may vary.
Kleber
Topker
600/65 R28 154A8 TL Dual Branding 151D
Kleber
Topker
600/65 R28 154A8 TL Dual Branding 151D
Tyre type:
Landwirtschaftsreifen (AS)
Tyre size
600/65 R28 154A8 TL Dual Branding 151D
Stock Level:
at the moment, this product is not in stock
Type of Tyre:
All-season tyres
Speed Index:
A8:
Approved
up to 25 mph
Description

Technical specifications
KLEBER, the long-established tyre manufacturer, recently launched the Topker tractor tyre onto the Irish market.

These high-capacity tyres are designed to fill the need created by the arrival of ever-larger, rigid-chassis tractors.

Kleber marketed their first agricultural tyre in 1948. Since then the company has grown into one of Europe's biggest tyre manufacturers. The company is now part of the Michelin group.

Kleber categorizes the Topker as a 'high-power' tyre. As a new breed of 230hp+ rigid chassis tractors emerged so too did the need for tyres to efficiently transmit the power. To-date, this market has been typically filled by the 710/70R38 or similar tyres.

Kleber, however, reckoned that this size was not ideal. In its place they developed the Topker, with sizes ranging from the largest 650/85R38 down to entry-level 600/65R28 size.

The firm reasons that the narrower section width allows the tractor to more easily plough in the furrow, without compacting the work already down.

Moreover, it helps to keep the tractor's width within or close to 2.5m, which eases headaches associated with transport or access through narrow gates. The major advantage, according to Kleber, is that these benefits are achieved whilst retaining the standard 38 inch rim. This compatibility with 'existing metalwork' is necessary to ensure the acceptance of the new size.

In the furrow, Kleber claim that the 650 Topker is effectively 4-5cm narrower than a conventional 710/70R38. Moreover, the manufacturer claims that at a similar pressure and speed the Topker profile can carry more load due to it's larger diameter. In fact, the effective contact patch is bigger due to it's larger rolling circumference, despite the narrower section width. As a consequence, a reduced incidence of slip in normal working conditions at optimum operating pressures is also claimed. Comfort levels are reportedly unchanged.


| | |
| --- | --- |
| Brand | Kleber |
| Tyre type | Landwirtschaftsreifen (AS) |
| Model | Topker |
| Dimension | 600/65 R28 154A8 TL Dual Branding 151D |
| Tyre width | 600 |
| Tyre profile | 65 |
| Construction type | R |
| Tyre size | 28 |
| Tyre load index | 154 |
| Speed index | (A8) |
| With/Without Valve (TT/TL) | Tyre requires tube |
| M/C | No |
*Prices include VAT and delivery within mainland UK (excl. Scottish Highlands).
**More than 90% of our orders reach the customer in the specified delivery time.