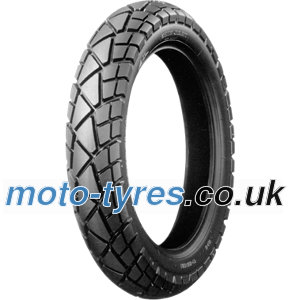 Please note: Prices apply to tires without rim. Depending on the tire dimension, the tread pattern may vary.
Bridgestone
TW202
120/90-16 TT 63P Rear wheel, M/C
Bridgestone
TW202
120/90-16 TT 63P Rear wheel, M/C
Bridgestone - Premium tyre manufacturer from Japan, top quality at premium-class prices.
TT = Display matching tubes
Tyre size
120/90-16 TT 63P Rear wheel, M/C
Description

Matching motorcycles

Client reviews rating

Technical specifications
Bridgestone Trail Wing TW202
The household name in off-road performance.
Features
Custom performance
The Trailwing range stands for superior off-road performance tailored to the specific needs of your individual machine.
Wide range
Let us take you under our wing with a wide spectrum of patterns, sizes, speed indexes and OE specifications, from a selection of scooter dimensions to large trail bikes.
Ground-breaking design
Break new ground with Bridgestone's trusted off-road technology, optimised for all possible surfaces and conditions.
Superior construction
Covering both bias and radial construction, Trailwing stands for quality, reliability and performance, whatever your needs.
| | |
| --- | --- |
| Brand | Bridgestone |
| Tyre type | Enduro |
| Model | TW202 |
| Dimension | 120/90-16 TT 63P Rear wheel, M/C |
| Tyre width | 120 |
| Tyre profile | 90 |
| Tyre size | 16 |
| Tyre load index | 63 |
| Speed index | (P) |
| With/Without Valve (TT/TL) | Tyre requires tube |
| M/C | Yes |
* The list prices, if available, are a net calculation basis for determining sales prices between tire manufacturers and their dealers.
In no case are the selling prices paid or usually paid.
**Prices include VAT and delivery within mainland UK (excl. Scottish Highlands).
***More than 90% of our orders reach the customer in the specified delivery time.