Dunlop
American Elite
MT90B16 TL 72H Front wheel, M/C
Dunlop
American Elite
MT90B16 TL 72H Front wheel, M/C
Dunlop - International tyre manufacturer of high-price, high-quality tyres
Tyre size
MT90B16 TL 72H Front wheel, M/C
Speed Index:
H:
Approved
up to 130 mph
Description

Matching motorcycles

Technical specifications

Set offers (front and rear tires)
Dunlop's American Elite is the only aftermarket tire line for Harley-Davidson motorcycles that is designed, tested and manufactured in the U.S.A.
The American Elite delivers enhanced tire mileage thanks to an MT Multi-Tread rear tire compound that incorporates a long-wearing compound in the center of the tire, along with a lateral-grip compound on each shoulder for great handling.
Dunlop's American Elite is the premier aftermarket choice for Harley-Davidson riders in search of tires that deliver extended tread wear. Sidewall design proudly features the American Elite name, Made-in-U.S.A. logo, and Multi-Tread Logo. NEW Available in a variety of sizes and sidewall styles, including black, narrow-white-sidewall and wide-white-sidewall.
| | |
| --- | --- |
| Brand | Dunlop |
| Tyre type | Chopper/Cruiser |
| Model | American Elite |
| Dimension | MT90B16 TL 72H Front wheel, M/C |
| Tyre width | MT90 |
| Construction type | B |
| Tyre size | 16 |
| Tyre load index | 72 |
| Speed index | (H) |
| With/Without Valve (TT/TL) | Tubeless |
| M/C | Yes |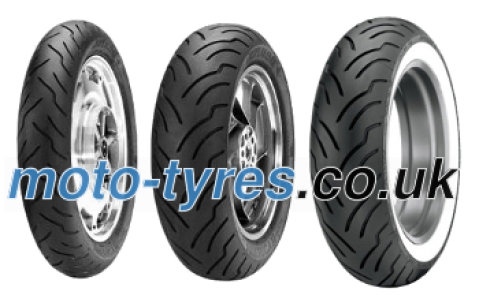 150/80B16 RF TL 77H Rear wheel, M/C
Buy tires in set
350.48 £ 339.97 £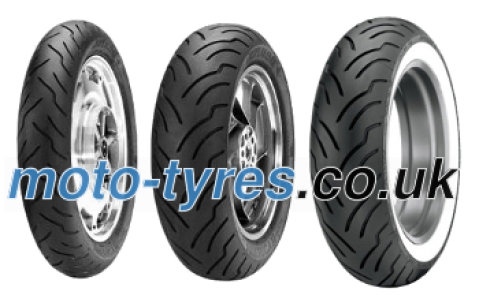 200/55 R17 TT/TL 78V Rear wheel, M/C
Buy tires in set
394.88 £ 383.04 £
* The list prices, if available, are a net calculation basis for determining sales prices between tire manufacturers and their dealers.
In no case are the selling prices paid or usually paid.
**Prices include VAT and delivery within mainland UK (excl. Scottish Highlands).
***More than 90% of our orders reach the customer in the specified delivery time.