Bridgestone
S 20 R Evo
190/55 ZR17 TL (75W) Rear wheel, M/C
Bridgestone
S 20 R Evo
190/55 ZR17 TL (75W) Rear wheel, M/C
Bridgestone - Premium tyre manufacturer from Japan, top quality at premium-class prices.
Tyre size
190/55 ZR17 TL (75W) Rear wheel, M/C
Speed Index:
(W):
Approved
up to over 169 mph
Description

Matching motorcycles

Client reviews rating

Technical specifications

Set offers (front and rear tires)
The best hypersport tyre just got even better.
Exhilarating performance
An updated version of the brillaint S20, only this time with improved all round performance.
Incredible handling
Feel the power in your fingertips through every corner. Easy turn-in possibilities, outstanding rear grip and improved stability let you challenge the limits of your bike and the road.
Extended tyre life
Revolutionary construction and compound technology last longer and take you further than ever before.
Superior grip
Experience the difference of tyres that really stick to the road, for untold acceleration and braking response and ultimate manoeuvrability.
Reliable wet performance
No rain checks here! The Battlax Hypersport S20 EVO performs just as well in the wet for stable, reliable braking and handling in all conditions.
S 20 R Evo tyre review
Average based on 58 test results
Braking in dry conditions
Braking in wet conditions
View more reviews
| | |
| --- | --- |
| Brand | Bridgestone |
| Tyre type | Supersport Road |
| Model | S 20 R Evo |
| Dimension | 190/55 ZR17 TL (75W) Rear wheel, M/C |
| Tyre width | 190 |
| Tyre profile | 55 |
| Construction type | ZR |
| Tyre size | 17 |
| Tyre load index | 75 |
| Speed index | ((W)) |
| With/Without Valve (TT/TL) | Tubeless |
| M/C | Yes |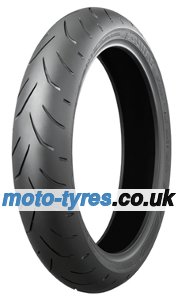 120/70 ZR17 TL (58W) M/C, Front wheel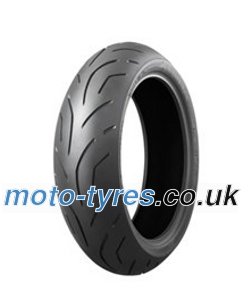 190/55 ZR17 TL (75W) Rear wheel, M/C
Buy tires in set
205.88 £ 199.70 £
*Prices include VAT and delivery within mainland UK (excl. Scottish Highlands).
**More than 90% of our orders reach the customer in the specified delivery time.