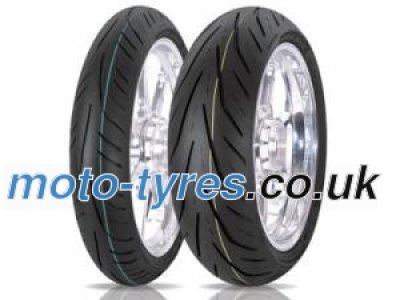 Please note: Prices apply to tires without rim. Depending on the tire dimension, the tread pattern may vary.
Avon
Storm 3D X-M
120/70 ZR17 TL (58W) Front wheel
Avon
Storm 3D X-M
120/70 ZR17 TL (58W) Front wheel
Avon - The English tyre manufacturer OEM for Aston Martin, 007 - high performance at affordable prices.
Tyre size
120/70 ZR17 TL (58W) Front wheel
Speed Index:
(W):
Approved
up to over 169 mph
Description

Matching motorcycles

Client reviews rating

Technical specifications

Set offers (front and rear tires)
High performance plus extended mileage
The X-M version will deliver 15%-20% extra mileage compared to the current Storm range
Interlocking three dimensional points hidden in the sipes to improve stability and grip, limit tread flex and allow the tyre to warm up quickly (3D Sipes)
High performance single and multi-compound super rich silica tread enhances wet grip (SRS)
Superb handling and stability characteristics
Typical fitments: Suzuki Hayabusa, Honda Blackbird, Kawasaki GTR1400, Suzuki GSX1400
| | |
| --- | --- |
| Brand | Avon |
| Tyre type | Sport Touring Radial |
| Model | Storm 3D X-M |
| Dimension | 120/70 ZR17 TL (58W) Front wheel |
| Tyre width | 120 |
| Tyre profile | 70 |
| Construction type | ZR |
| Tyre size | 17 |
| Tyre load index | 58 |
| Speed index | ((W)) |
| With/Without Valve (TT/TL) | Tubeless |
| M/C | Yes |
* The list prices, if available, are a net calculation basis for determining sales prices between tire manufacturers and their dealers.
In no case are the selling prices paid or usually paid.
**Prices include VAT and delivery within mainland UK (excl. Scottish Highlands).
***More than 90% of our orders reach the customer in the specified delivery time.