Bridgestone
BT016 R Pro
190/50 ZR17 TL (73W) Rear wheel, M/C
Bridgestone
BT016 R Pro
190/50 ZR17 TL (73W) Rear wheel, M/C
Bridgestone - Premium tyre manufacturer from Japan, top quality at premium-class prices.
Tyre size
190/50 ZR17 TL (73W) Rear wheel, M/C
Speed Index:
(W):
Approved
up to over 169 mph
Description

Matching motorcycles

Client reviews rating

Technical specifications

Set offers (front and rear tires)
3rd line product with first line performance. The ideal product for the mid 2000s and onwards sports bikes.
High-speed performance
Get the confidence you need to unleash the full power of your hyper sports bike. This tyre sets new standards for stability, grip and precision performance.
Reliable handling
Advanced, multi-compound construction on both front and rear tyres offer superior handling characteristics across the full spectrum of road conditions.
Excellent durability
The Battlax BT-016 PRO's advanced, silica-reinforced compound boosts wear resistance while maintaining consistent performance levels throughout the life of the tyre.
All-weather performance
Enjoy the peace-of-mind of Bridgestone's relentless dedication to safety. Get superior wet-weather handling without compromising on grip, handling or stability in dry conditions.
3 rear tyre sizes
Accommodating a wide range of ultra-high-performance bikes.
BT016 R Pro tyre review
Average based on 78 test results
Braking in dry conditions
Braking in wet conditions
Grip in dry conditions

5 from 5

Braking in dry conditions

4 from 5

Grip in wet conditions

4 from 5

Braking in wet conditions

4 from 5

Internal noise level

5 from 5

Fuel consumption

4 from 5

16000 km with KTM 1190 RC 8 R
View more reviews
| | |
| --- | --- |
| Brand | Bridgestone |
| Tyre type | Supersport Road |
| Model | BT016 R Pro |
| Dimension | 190/50 ZR17 TL (73W) Rear wheel, M/C |
| Tyre width | 190 |
| Tyre profile | 50 |
| Construction type | ZR |
| Tyre size | 17 |
| Tyre load index | 73 |
| Speed index | ((W)) |
| With/Without Valve (TT/TL) | Tubeless |
| M/C | Yes |
130/70 ZR16 TL (61W) M/C, Front wheel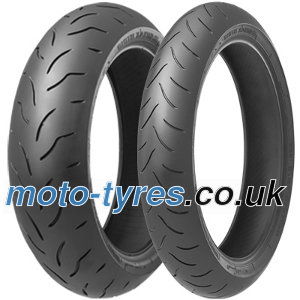 190/50 ZR17 TL (73W) Rear wheel, M/C
Buy tires in set
201.68 £ 195.63 £
* The list prices, if available, are a net calculation basis for determining sales prices between tire manufacturers and their dealers.
In no case are the selling prices paid or usually paid.
**Prices include VAT and delivery within mainland UK (excl. Scottish Highlands).
***More than 90% of our orders reach the customer in the specified delivery time.