Bridgestone
BT45 R
120/90-18 TL 65V Rear wheel, M/C
Bridgestone
BT45 R
120/90-18 TL 65V Rear wheel, M/C
Bridgestone - Premium tyre manufacturer from Japan, top quality at premium-class prices.
Tyre size
120/90-18 TL 65V Rear wheel, M/C
Speed Index:
V:
Approved
up to 149 mph
Description

Matching motorcycles

Client reviews rating

Technical specifications

Set offers (front and rear tires)
The comfort of a touring tyre coupled with the performance of a sports tyre.
A difference you can feel
Bridgestone's Comprehensive Tyre Design Method (CTDM) optimises tread, profile and construction for superior riding comfort and a difference you can feel.
Total peace of mind
Bridgestone's advanced tread technology ensures total safety and reliability in wet and dry conditions.
Sports handling
Feel the thrill of genuine sports performance at every turn. Available in H and V speed ratings.
Superior construction
Get the advantage of a quality, Japanese made tyre with the genuine, all-round performance of bias construction.
Go the distance
Featuring Bridgestone's dual compound, straight and cornering technology (SACT), the Battlax BT-45 delivers excellent cornering grip while extending the life of your tyres.
Bridgestone BT45 R tyre review
Average based on 2 test results
Braking in dry conditions
Braking in wet conditions
View more reviews
| | |
| --- | --- |
| Brand | Bridgestone |
| Tyre type | Sport Touring Diagonal |
| Model | BT45 R |
| Dimension | 120/90-18 TL 65V Rear wheel, M/C |
| Tyre width | 120 |
| Tyre profile | 90 |
| Tyre size | 18 |
| Tyre load index | 65 |
| Speed index | (V) |
| With/Without Valve (TT/TL) | Tubeless |
| M/C | Yes |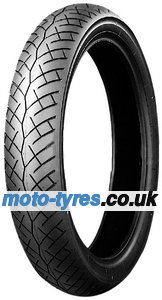 90/90-18 TL 51H M/C, Front wheel
Type
Tourensport Diagonal
Buy tires in set
197.08 £ 191.17 £
* The list prices, if available, are a net calculation basis for determining sales prices between tire manufacturers and their dealers.
In no case are the selling prices paid or usually paid.
**Prices include VAT and delivery within mainland UK (excl. Scottish Highlands).
***More than 90% of our orders reach the customer in the specified delivery time.